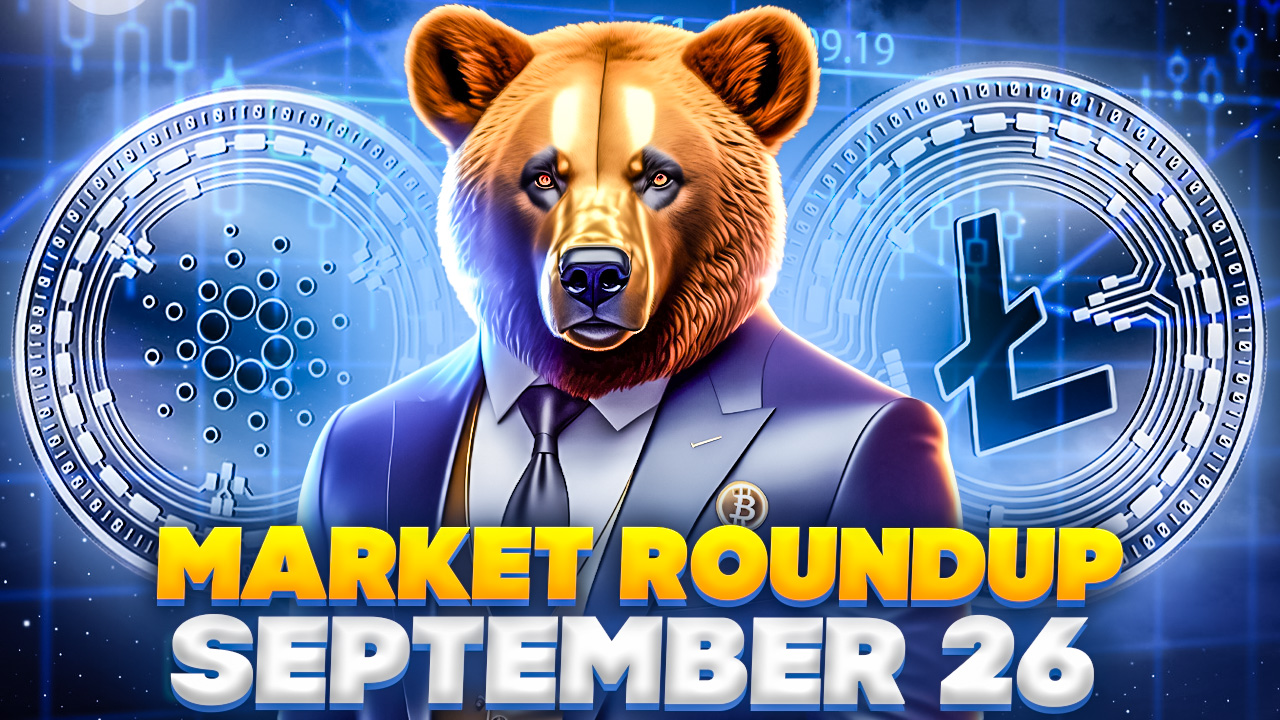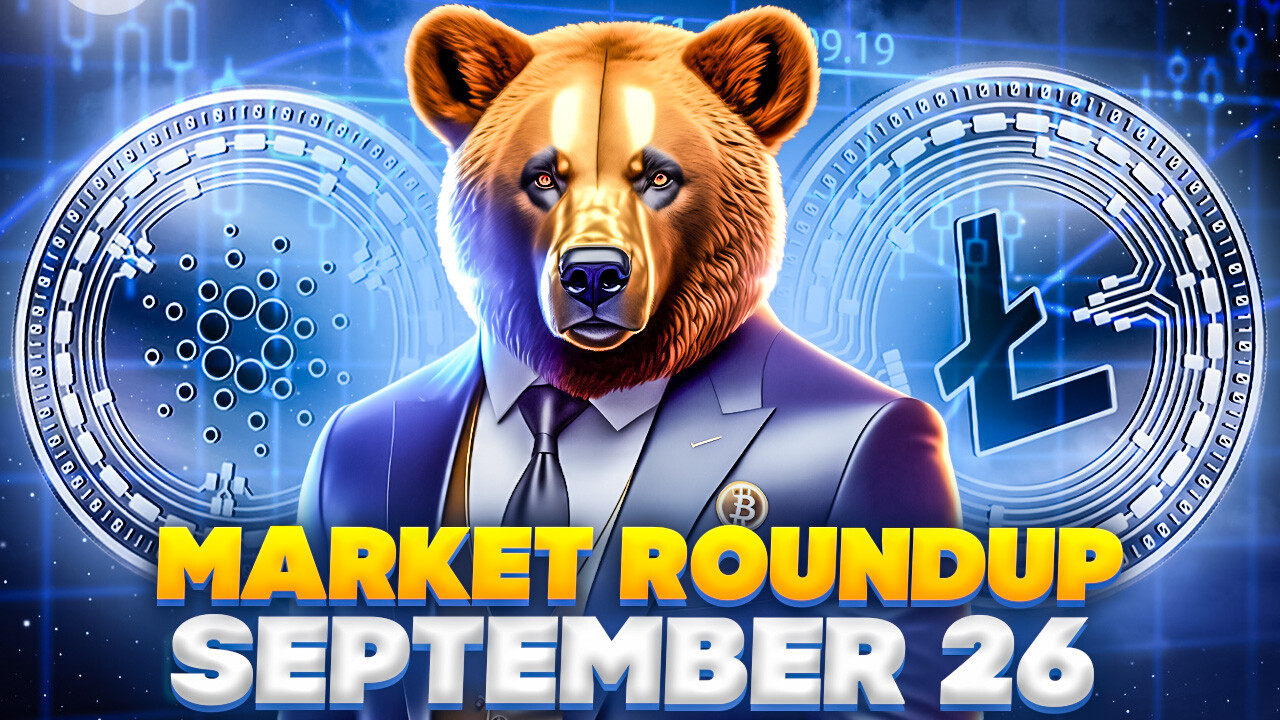 Would You like a feature Interview?
All Interviews are 100% FREE of Charge
The flagship cryptocurrency, Bitcoin, has sparked renewed interest among investors and enthusiasts as its price increases. 
With today's live Bitcoin price standing at $26,203 and a 24-hour trading volume reaching a staggering $10 billion, the digital asset has seen a near 0.50% surge in the past day. 
As it continues to dominate the CoinMarketCap rankings at #1, its current market capitalization hovers around $510 billion. 
Given that there are 19,496,412 BTC coins in circulation out of a maximum supply of 21,000,000 BTC coins, the pressing question emerges: Is the bull market making a comeback?
Consumer Confidence Index Falters in September
In September, the Conference Board's Consumer Confidence Index witnessed another decline, settling at 103.0 (baseline: 1985=100), a drop from the revised 108.7 in August. 
The Present Situation Index, which gauges consumers' perceptions of the prevailing business and labour market scenarios, registered a marginal ascent of 147.1 (baseline: 1985=100) from its previous value of 146.7. 
Conversely, the Expectations Index, reflecting consumers' near-term prospects for income, business, and labor conditions, receded to 73.7 (baseline: 1985=100) in September, descending from 83.3 in the prior month. Notably, this retreat brought the Expectations Index below the critical
 80 mark—traditionally indicative of a looming recession within the forthcoming year.
Bitcoin Price Prediction 
Bitcoin, in its current trajectory, is demonstrating lateral movement, having descended below the pivotal support threshold of $26,500. 
The prevailing conditions suggest a potential decline, possibly breaching the notable $26,000 mark in the ensuing period.
Despite several endeavors, the premier cryptocurrency has been unsuccessful in surpassing the $27,500 resistance, leading to a marked retraction. 
This downturn has ushered Bitcoin beneath crucial support zones of $27,000 and $26,500, thereby signaling a bearish disposition.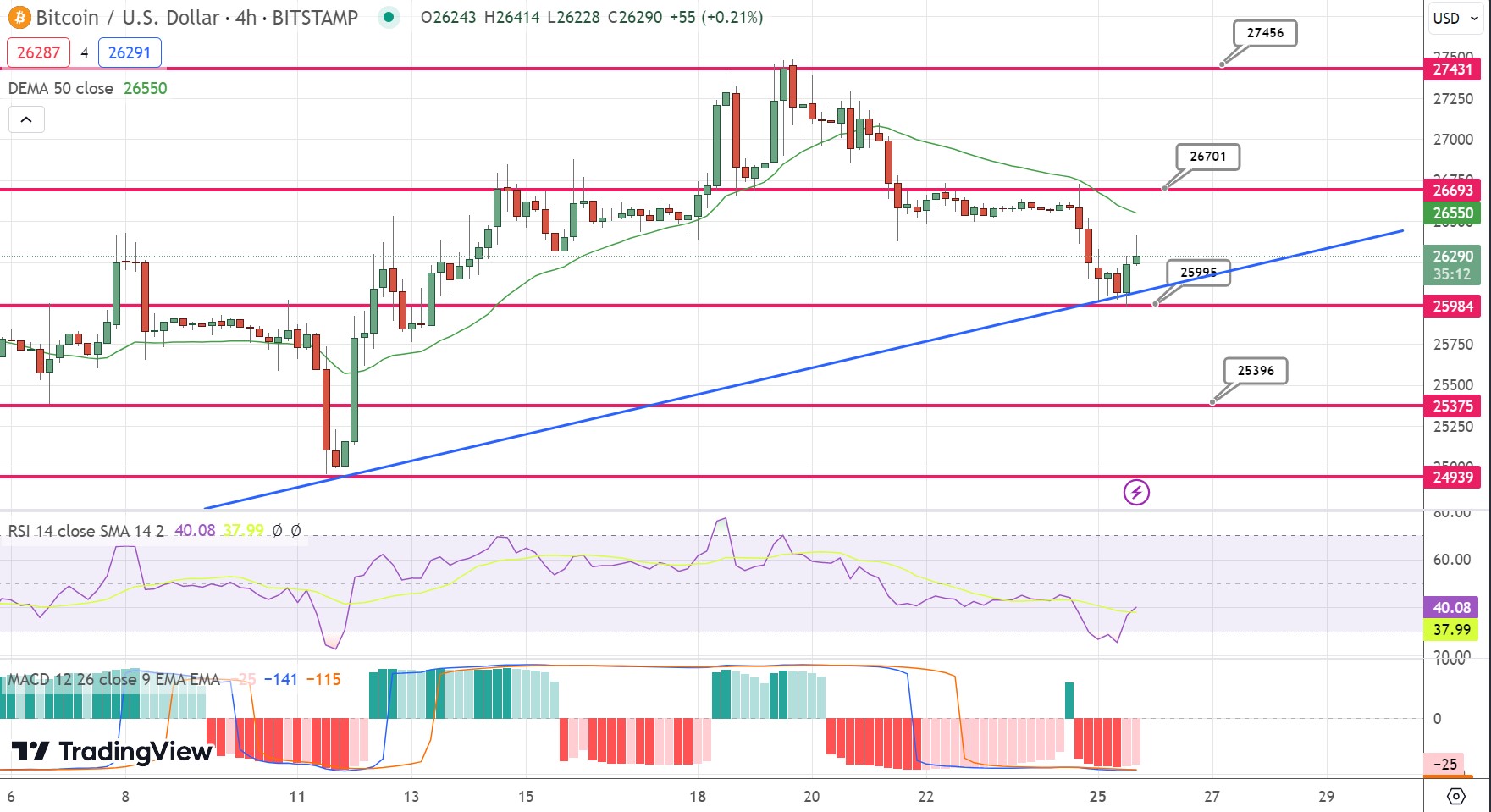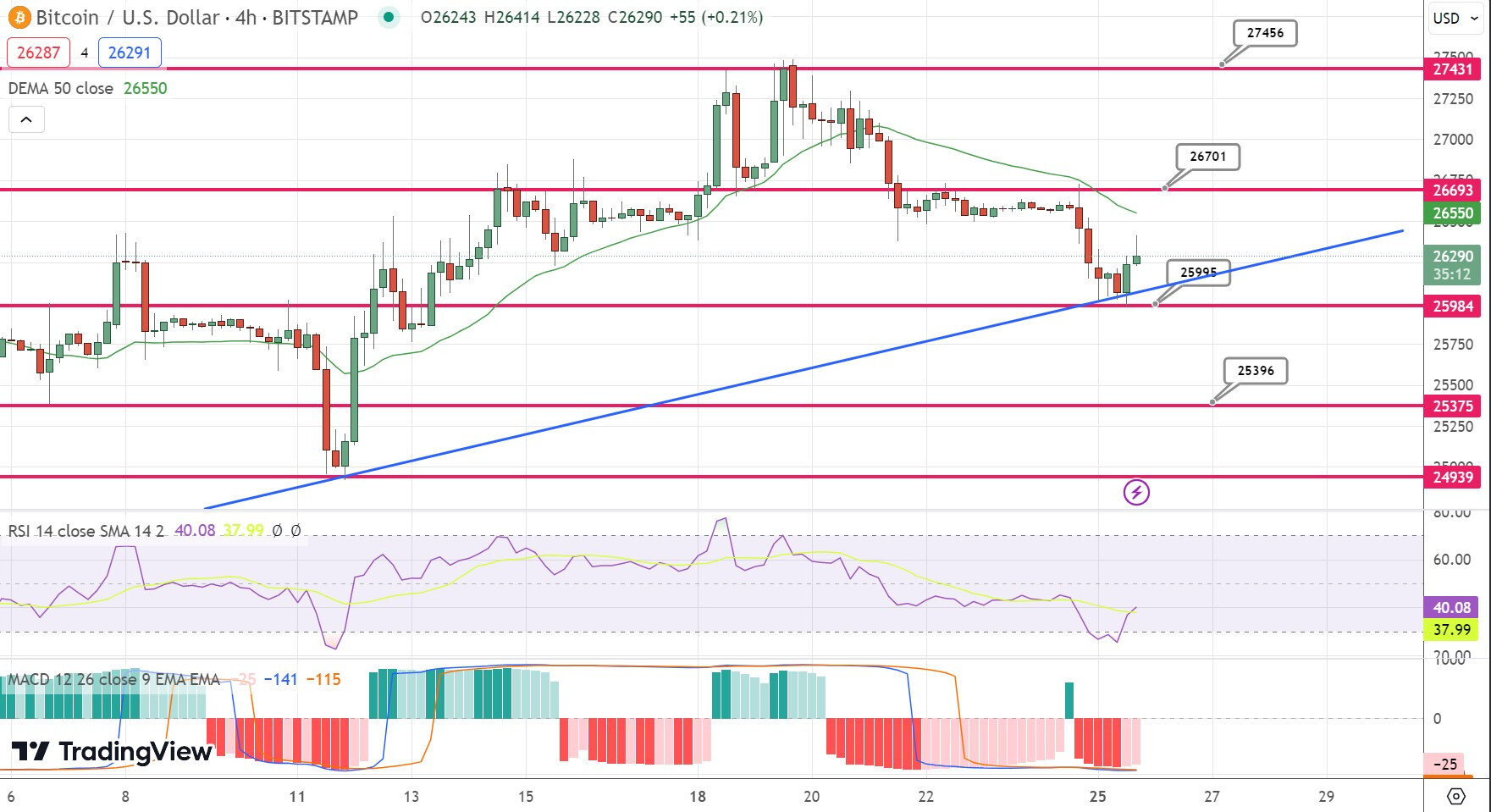 Further to this, BTC momentarily descended below the $26,200 foundational level, nearing the $26,000 juncture. It has, however, marked a recent low of around $26,026, transitioning into a stage of loss mitigation. 
Currently, BTC marginally surpasses the 23.6% Fibonacci retracement tier, facing imminent resistance at $26,350 and $26,500.
Should BTC overcome the $26,700 barrier, there exists a potential trajectory towards $27,000 and, subsequently, $27,500. Conversely, a failure to do so might steer BTC towards lower landmarks of $25,400 or potentially $25,000.
Top 15 Cryptocurrencies to Watch in 2023
Stay up-to-date with the world of digital assets by exploring our handpicked collection of the best 15 alternative cryptocurrencies and ICO projects to keep an eye on in 2023. 
Our list has been curated by professionals from Industry Talk and Cryptonews, ensuring expert advice and critical insights for your cryptocurrency investments. 
Take advantage of this opportunity to discover the potential of these digital assets and keep yourself informed.
Find The Best Price to Buy/Sell Cryptocurrency


Disclaimer: Cryptocurrency projects endorsed in this article are not the financial advice of the publishing author or publication – cryptocurrencies are highly volatile investments with considerable risk, always do your own research.
Want to benefit from our PR Services?
PR Services for business professionals to make an impact