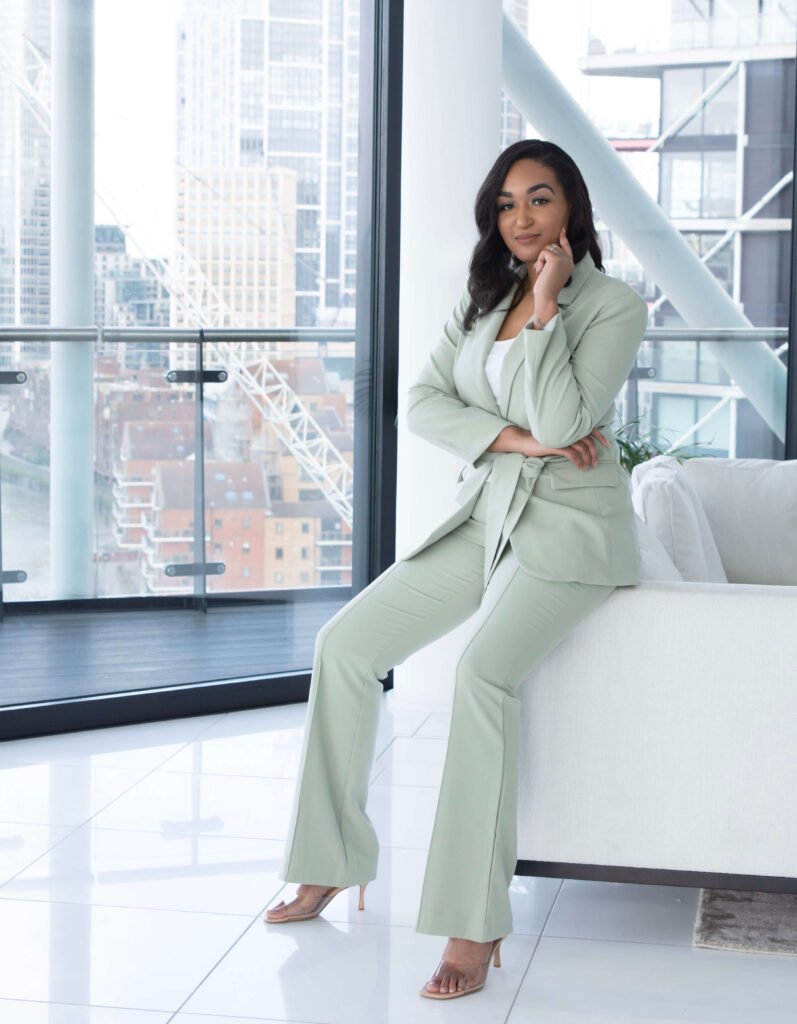 Would You like a feature Interview?
All Interviews are 100% FREE of Charge
Chanice Erica Ali is an accomplished entrepreneur, speaker, mentor, wife, and mother who is making a significant impact in the world of property investment and female empowerment. Her company, Onyx Empire Estates, has experienced impressive success in a short time, and Chanice is using her expertise and experience to help other women achieve their goals.

Through her keynote speeches and online training courses, Chanice is inspiring women to overcome personal obstacles, take control of their mindset, and achieve financial independence through property investment. Her focus on empowering women is particularly noteworthy, as she is challenging the male-dominated industry and encouraging other women to follow in her footsteps.

Chanice's commitment to helping women achieve success is reflected in her mentoring program, which provides a supportive community for women to share their experiences, seek advice, and connect with like-minded individuals. Through her work, Chanice is not only helping women to create generational wealth through property investment, but also breaking down gender barriers and challenging stereotypes.

Overall, Chanice Erica Ali is a powerful role model for women who want to achieve success in business and in life. Her dedication to helping others, combined with her impressive track record of success, make her an inspiring figure in the world of entrepreneurship and female empowerment.
Would You like a feature Interview?
All Interviews are 100% FREE of Charge
THE INTERVIEW: We are delighted to share your knowledge, experience & insights with the GallantCEO audience.
Lets begin with a little introduction. Tell our audience a bit about yourself and your company.
As the founder and CEO of Onyx Empire Estates, my background has been a driving force in my success. Growing up in poverty and facing personal challenges such as domestic violence, depression, and being a teen mum taught me the value of resilience and determination.
Despite these obstacles, I was determined to create a better life for myself and my family. That's where my passion for property investment began. I saw it as a way to not only improve my own financial situation, but also help others achieve their financial goals.
At Onyx Empire Estates, we specialise in helping cash rich, time poor individuals source 
high return property investment opportunities
. Our team has a proven track record of success in identifying and securing properties with excellent potential for growth and profitability.
I believe that my personal experiences have given me a unique perspective and drive that has fuelled my success as an entrepreneur. I'm proud to have created a company that not only provides excellent investment opportunities, but also empowers others to take control of their financial futures.
2021 and 2022 has been a tough year for business around the globe.
In your experience can you share…
How businesses prosper in 2023?
There are several key strategies that businesses can implement to prosper in 2023:
1. Embrace technology: Technology continues to advance at an exponential rate and businesses that fail to adapt risk falling behind. By investing in the latest tools and software, businesses can streamline operations, improve efficiency, and enhance the customer experience.
2. Focus on sustainability: Consumers are increasingly concerned about environmental issues, and businesses that prioritise sustainability are more likely to earn their loyalty. This can involve reducing waste, using renewable energy sources, and adopting eco-friendly practices throughout the supply chain.
3. Prioritise employee well-being: The COVID-19 pandemic has highlighted the importance of supporting employee health and well-being. Businesses that offer flexible work arrangements, mental health support, and other wellness initiatives are likely to attract and retain top talent.
4. Emphasise personalised experiences: In an age of data-driven marketing, consumers expect personalised experiences. Businesses can leverage data to tailor their products and services to individual preferences, which can lead to increased customer satisfaction and loyalty.
5. Foster a strong company culture: A positive company culture can help attract and retain top talent, improve employee morale, and enhance productivity. Businesses that prioritise employee engagement, open communication, and a sense of purpose are more likely to succeed in the long run.
The economy has been turned on it's head in the wake of the pandemic. What should businesses focus on in 2023?
I was employed during the pandemic and found a huge lack of support for staff well-being. This along with a lack of support for females and postpartum pay was a driving force for me to start my own company. By businesses offering flexible work arrangements, mental health support, and other wellness initiatives can not only attract top talent but also improve employee retention and productivity. It's important for businesses to recognise that investing in employee well-being is not just a nice-to-have but a critical component of long-term success. By prioritising employee health and well-being, businesses can create a positive work environment that fosters employee engagement, innovation, and growth.
Many business went from working in the office to working at home.
What are the pros & cons of working from home and have you any first-hand experience?
Pros:
1. Flexibility: Working from home allows for a greater degree of flexibility in terms of when and where work is done. This can be particularly helpful for those with caregiving responsibilities, health issues, or other commitments.
2. Increased productivity: Studies have shown that remote workers often have higher levels of productivity due to fewer distractions and more autonomy over their work.
3. Cost savings: By eliminating the need for commuting, remote work can lead to significant cost savings on transportation, meals, and work attire.
4. Improved work-life balance: With greater flexibility and autonomy, remote workers often report a better work-life balance and greater job satisfaction.
Cons:
1. Isolation: Working from home can be isolating, particularly for those who thrive on social interaction and collaboration with colleagues.
2. Blurred boundaries: When work and home life occur in the same physical space, it can be difficult to establish clear boundaries and separate the two.
3. Technology issues: Dependence on technology for communication and collaboration can lead to technical issues, such as poor internet connectivity, which can hamper productivity and communication.
4. Distractions: While remote work can reduce distractions from colleagues or office noise, it can also introduce new distractions, such as household chores, family members, or pets.
I remember feeling extremely overwhelmed when we were first made to work from home. Childcare was closed, and I was in a tiny house with my 2 kids and husband. I had no space to myself. I was stuck in a bad habit of not getting dressed until lunchtime. I found myself falling into old habits that led me to depression years before. It was a scary time for me. I am the type of person that needs to feel fulfilled and working towards a goal at all times. During this period I felt like the world was literally ending and it was out of my control. My youngest at the time was literally running in circles in our tiny lounge.
It broke my heart. I decided something needed to change, so I implemented small daily habit changes to help regain my sanity. I deactivated social media, took walks, stopped watching the news and began writing a manifestation list. This helped me regain control over my mind. I still continue to work from home now but am more consistent and get up, dress up and ensure I leave the house at least twice a week.
The war between Russia and Ukraine has caused a rising effect on inflation,
How can business owners combat the rise of inflation and what have you done that you can share?
1. Adjust pricing: As costs increase, it may be necessary to adjust pricing to maintain profitability. However, businesses should be careful not to overprice their products or services and drive away customers.
2. Manage costs: By managing costs, businesses can reduce the impact of inflation on their bottom line. This can include negotiating better deals with suppliers, reducing waste, and optimising operations to reduce inefficiencies.
3. Diversify revenue streams: Businesses can mitigate the impact of inflation by diversifying their revenue streams. This can include expanding into new markets, offering new products or services, or exploring alternative revenue models.
I have personally had to find ways to increase revenue. I have done this by diversifying my revenue streams and also diversifying my client base. My clients have gone from solely entry-level investors to now Ultra High Net-worth individuals seeking larger investment opportunities. This small change has in turn provided me with higher revenue.
I decided to also diversify what I offer to my clients in order to create extra revenue. I have added a fully hands-free investment service which includes sourcing the investment, project management, and property management. This way I am able to generate more revenue from existing clients without having to increase my prices.
It's important for business owners to monitor inflation trends and adjust their strategies accordingly. By being proactive and implementing these strategies, businesses can mitigate the impact of inflation and maintain profitability over time.
In the last 5 years, we have seen the rise of Cryptocurrency, Blockchain, NFTs, Digital Marketing, and many more!
What will impact the world most in regard to online selling?
Advancements in technology: Advances in technology are likely to continue to reshape the world of online selling, with new platforms, tools, and technologies enabling businesses to sell more effectively and efficiently. This includes the use of artificial intelligence, machine learning, and augmented reality.
Businesses that are able to adapt to these trends and stay ahead of the curve are likely to be the most successful in the world of online selling. This will require a willingness to embrace change, invest in new technologies, and prioritise the customer experience.
On a more subtle note…
If you could have dinner with three people, dead or alive who would it be and why?
Oprah Winfrey because when I was a child I used to wish she was my rich aunty. She is a significantly influential and successful woman of ethnicity and I feel she can provide so much value to my life.
Michelle Obama to find out how she managed to support her husband's dreams and goals whilst also building her own success.
Meghan Markle as I feel we have a lot in common when it comes to family dynamics and her passion to empower females is inspiring.
Reading is still one of the most popular ways to learn anything.
What is your most recommended book(s) by who and what did you learn from them?
Secrets of a Six-Figure Woman by Barbara Stanny. I learned women as a whole are less likely to earn six-figures because we lack the financial know-how and self-awareness. This book was my daily read and inspiration when I began my business. I want to help educate and empower women just as this book did for me.
What is your purpose for getting out of bed each day and what do you aim to achieve in the future?
It's cliche but of course its my kids. And the fear of being flat broke again. I refuse to have a future where I have to pick up pennies from the street to buy a loaf of bread. I have been there and I never want to experience the shame and lack of self-worth again. I am to provide my children with the financial literacy I never received.
By 2025 I plan to have a multi-million-pound property portfolio and be regarded as the most successful female property investor. I hope to have coached hundreds of females and helped them create a secure financial future through property investments. By 2030 I hope to establish my housing charity to support under-privileged women battling domestic violence and depression. This is something dear to my heart and makes up a huge part of why I do what I do.
Follow Chanice on Instagram
Want to benefit from our PR Services?
PR Services for business professionals to make an impact
Want to benefit from our PR Services?
PR Services for business professionals to make an impact